Pension Indicator Updated for January 31, 2021
New Year, New Trend?
By: Grant Guyuron, Senior Managing Director, Clearstead
Bonds have been in a bull market for decades, which has created headwinds for plan sponsors as they have attempted to maintain or increase funded ratios. The U.S. 10-Year Treasury yield peaked at over 15% in 1981 and has since declined over a 40-year bull market, hitting new lows (0.55% end of day) amidst the pandemic in 2020i.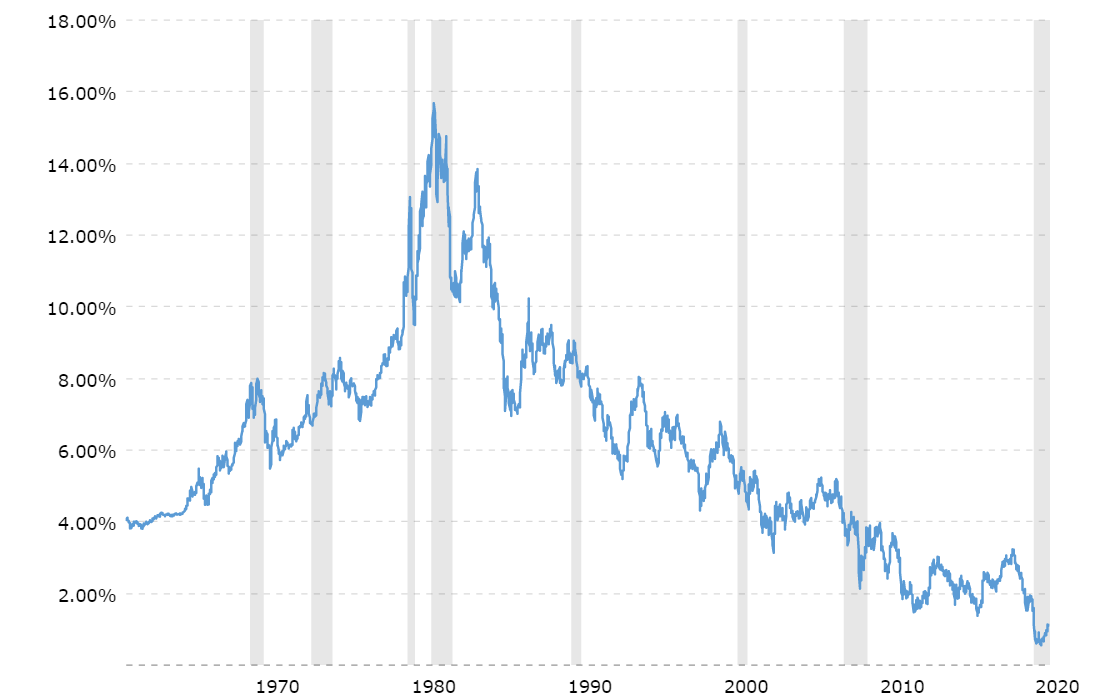 Source: Macro Trends.net as of 2/5/2021
Since bottoming in July of 2020, interest rates have essentially doubled over a six-month period. Through the first few days of February 2021, the 10-Year Treasury sits around 1.15%, up approximately 0.22% since year-endi. The question for plan sponsors is whether this reversal is apt to continue. With expectations of massive government spending and a continuously rising level of national debt, it is conceivable that inflation could result, which would likely lead to higher interest rates. Such a scenario could provide the tailwind that plan sponsors have sought for so long.
January returns were mixed based on region and market capitalization. The S&P 500 Index (U.S. large cap stocks) returned -1.0%, the Russell 2000 Index (U.S. small cap stocks) returned +5.0%, the MSCI ACWI EAFE Index (developed international stocks) returned -1.1%, and the MSCI EM Index (emerging markets) returned +3.1%ii. Bond returns were mostly negative, with the Bloomberg Barclays U.S. Aggregate Index returning -0.7% and the Barclays Long Government Credit -3.0% as interest rates increased. The net effect is that many plan sponsors may have experienced modest losses on their assets. As seen in the charts below, plans invested for asset growth returned -0.3%, while LDI light portfolios also performed well, returning -1.5%. Though assets were down, liabilities were also negative in the month, with older frozen and cash balance plans up between 2.2% - 2.4%. More recently frozen plans and those with ongoing benefit accruals experienced liability decreases of approximately 3.3% and 4.4%, respectively. Plans with more of a growth orientation that are still open and accruing benefits may have experienced an increase in funded status of >4% in the month.
It is anyone's guess where interest rates will go from here, but plan sponsors are apt to benefit should rates continue to move higher.
From all of us at Findley, a Division of USI, and Clearstead, we hope everyone and their families are safe and healthy.
As always, thanks for reading, and drop us a comment on how we're doing.
This email address is being protected from spambots. You need JavaScript enabled to view it. or Clearstead to discuss this information further.
For more information on the development of the Pension Indicator, please see our Disclosure document.
Information provided in this article is general in nature, is provided for informational purposes only, and should not be construed as investment advice. Performance data represents past performance. Past performance is not indicative of future results.
ihttps://www.macrotrends.net/2016/10-year-treasury-bond-rate-yield-chart
iiBloomberg
Year to Date Investment Mix

Plan Type

Growth

Balanced

LDI Lite

LDI

Frozen (for several years)

1.9%
1.5%
0.7%
-0.2%

Recently Frozen

3.0%
2.5%
1.8%
0.8%

Ongoing Traditional

4.1%
3.6%
2.8%
1.9%

Cash Balance

2.1%
1.7%
0.9%
0.0%

Month-over-Month Investment Mix

Plan Type

Growth

Balanced

LDI Lite

LDI

Frozen (for several years)

1.9%
1.5%
0.7%
-0.2%

Recently Frozen

3.0%
2.5%
1.8%
0.8%

Ongoing Traditional

4.1%
3.6%
2.8%
1.9%

Cash Balance

2.1%
1.7%
0.9%
0.0%

12-Month Change Investment Mix

Plan Type

Growth

Balanced

LDI Lite

LDI

Frozen (for several years)

5.9%

5.4%
4.6%
2.2%

Recently Frozen

5.6%
5.1%
4.3%
1.9%

Ongoing Traditional



5.4%
4.9%
4.1%
1.7%

Cash Balance

5.8%
5.3%
4.5%
2.1%