Pension Indicator Updated for February 28, 2019
Scheduled Release for Prisoner of the Moment
By: Matthew Klein, Principal, Findley
With our partnership with Clearstead in producing the Pension Indicator, I write the commentary every other month. Like a good actuary, before I start writing this month's commentary, I go back and review what I wrote two months ago. When that happened this month, I let out a little chuckle to myself. Nothing was factually incorrect, but, having just come off one of the worst December performances ever, there was a palpable sense of urgency as to what would happen next. Now, with the benefit of hindsight, it was clear how I got caught up in "prisoner of the moment".
As Grant Guyuron noted in last month's commentary, in times of volatility is when you most need those investment professionals to help you understand the situation and avoid a panicked reaction. I would extend that thinking to the totality of the pension plan as well, specifically, plan design changes. For example, we are seeing steady interest among clients in looking at another round of buy-outs for terminated participants since most plan sponsors last did these at least a couple years ago now. If you have done the cost/benefit analysis, whichever way that came out for your plan, you most likely will come to the same conclusion after a significant move in equity markets. Usually, the underlying math holds up under stress-testing.
The other area I have consistently seen this observed is with regards to moving a pension plan's investment strategy over to an LDI-type strategy. Current momentum can be a powerful force. If the equity markets are up, many an investment committee doesn't want to quit a strategy that is working. And if the equity markets are down, no one wants to sell low. Not to say that where a plan is today is completely irrelevant, but if the decision to move to LDI is a sound one, it would be a sound move under a variety of conditions.
Sit back, be prudent, be patient, and you will avoid becoming a prisoner yourself.
As always, thanks for reading, and drop us a comment on how we're doing.
This email address is being protected from spambots. You need JavaScript enabled to view it. or Clearstead to discuss this information further.
For more information on the development of the Pension Indicator, please see our Disclosure document.
Information provided in this article is general in nature, is provided for informational purposes only, and should not be construed as investment advice. Performance data represents past performance. Past performance is not indicative of future results.
Year to Date Investment Mix

Plan Type

Growth

Balanced

LDI Lite

LDI

Frozen (for several years)

5.4%
4.1%
3.0%
1.6%

Recently Frozen

5.1%
3.8%
2.8%
1.4%

Ongoing Traditional

4.9%
3.6%
2.5%
1.2%

Cash Balance

5.2%
3.9%
2.9%
1.5%

Month-over-Month Investment Mix

Plan Type

Growth

Balanced

LDI Lite

LDI

Frozen (for several years)

2.0%
1.6%
1.1%
0.4%

Recently Frozen

2.2%
1.7%
1.3%
0.6%

Ongoing Traditional

2.4%
2.0%
1.5%
0.8%

Cash Balance

2.0%
1.6%
1.1%
0.4%

12-Month Change Investment Mix

Plan Type

Growth

Balanced

LDI Lite

LDI

Frozen (for several years)

3.0%

2.8%
2.3%
2.2%

Recently Frozen

3.6%
3.5%
2.9%
2.9%

Ongoing Traditional



4.3%
4.2%
3.6%
3.5%

Cash Balance

3.0%
2.8%
2.3%
2.2%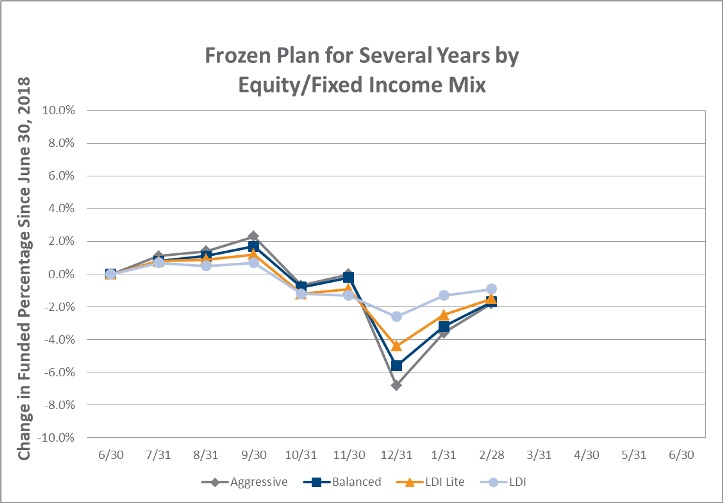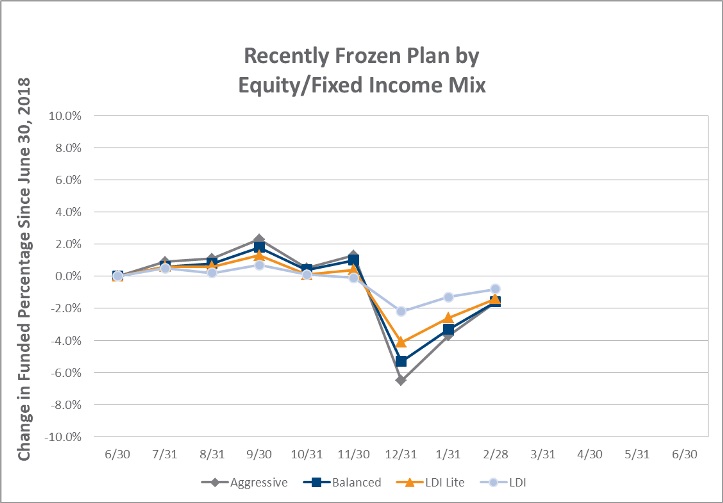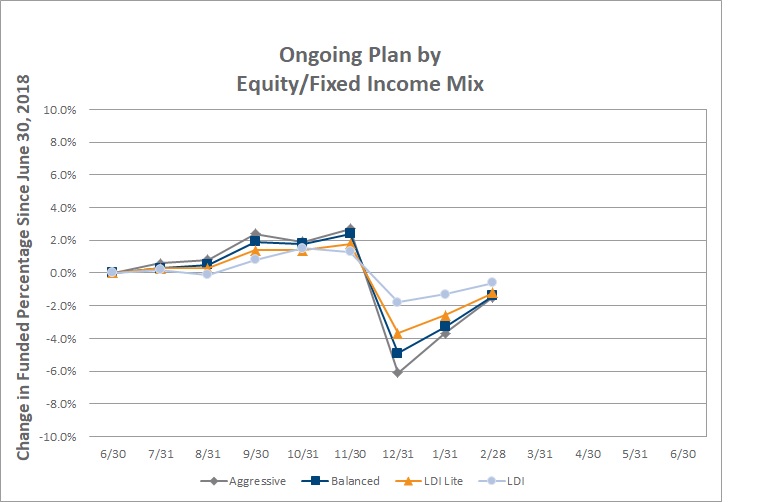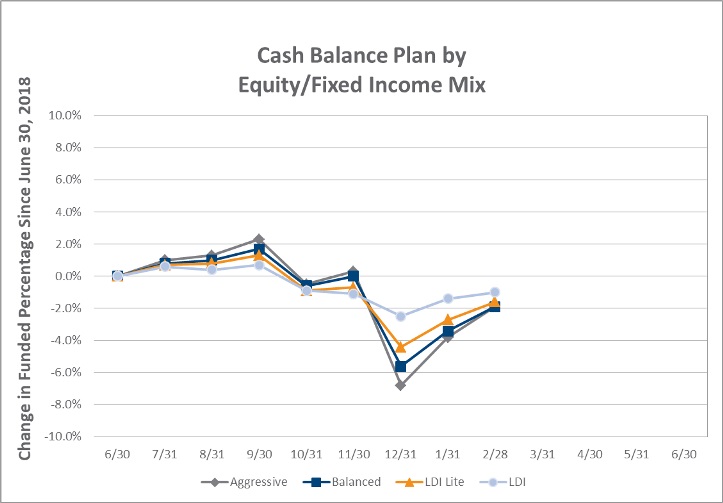 Scheduled release for prisoner of the moment