Pension Indicator Updated for March 31, 2019
Rates, the Treasury Yield Curve and Pension Liabilities
By: Grant Guyuron, Senior Managing Director, Clearstead
Interest rate sensitivity is a term that we have used at nauseam with clients over the last ten years. We talk about discount rates used to value pension liabilities, credit spreads, the yield curve, and liability hedging tactics that are primarily centered around…interest rates. Though our clients are probably tired of the discussion, rates remain as important to plan sponsors today as they have ever been. In addition to the impact rates have in valuing assets and liabilities, interest rates and the U.S. Treasury yield curve are also tools to help evaluate portfolio positioning and relative value and for risk management.
Interest rates played a prominent role in March, and plan sponsors likely had mixed emotions, particularly those with underfunded and relatively unhedged assets. Equities were broadly positive as the Russell 3000 Index (U.S. equities) returned 1.5% and the MSCI ACWI ex USA Index (international equities) returned 0.6%. Credit spreads were relatively flat; however, long-term interest rates fell meaningfully, which was positive for fixed income returns but also pushed pension liabilities higher. The Bloomberg Barclays U.S. Long Credit Index returned 4.3% in March. Meanwhile, the U.S. Treasury yield curve flattened and temporarily inverted – meaning that short-term rates were higher than long-term rates for a few days.
Given the swift movement downward in rates, pension liabilities generally outpaced asset returns in March. The Pension Indicator Growth allocation (which has meaningful equity exposure) returned 1.3% in March compared to the FTSE Pension Liability Index returns of 4.0% - 5.8% in the month i. Plan sponsors that have built a Liability Driven Investment approach would have fared better in the month. The flat yield curve could be considered by some to be an ominous sign for the markets and economy. Clearstead's research team holds the opinion that the risk is more related to a curve that is inverted for an extended period of time. Our view is that it is a good time to revisit the risk orientation of investments and how they tie to the objectives and constraints of the organization.
Sit back, be prudent, be patient, and you will avoid becoming a prisoner yourself.
As always, thanks for reading, and drop us a comment on how we're doing.
This email address is being protected from spambots. You need JavaScript enabled to view it. or Clearstead to discuss this information further.
For more information on the development of the Pension Indicator, please see our Disclosure document.
Information provided in this article is general in nature, is provided for informational purposes only, and should not be construed as investment advice. Performance data represents past performance. Past performance is not indicative of future results.
i FTSE Pension Liability Index, as of 3/31/19
Year to Date Investment Mix

Plan Type

Growth

Balanced

LDI Lite

LDI

Frozen (for several years)

3.1%
2.4%
2.2%
1.9%

Recently Frozen

1.8%
1.1%
0.9%
0.6%

Ongoing Traditional

0.4%
-0.3%
-0.5%
-0.8%

Cash Balance

2.7%
1.9%
1.7%
1.4%

Month-over-Month Investment Mix

Plan Type

Growth

Balanced

LDI Lite

LDI

Frozen (for several years)

-2.1%
-1.6%
-0.8%
0.2%

Recently Frozen

-3.1%
-2.7%
-1.9%
-0.8%

Ongoing Traditional

-4.2%
-3.8%
-3.0%
-2.0%

Cash Balance

-2.4%
-1.9%
-1.1%
-0.1%

12-Month Change Investment Mix

Plan Type

Growth

Balanced

LDI Lite

LDI

Frozen (for several years)

2.3%

2.3%
2.2%
2.6%

Recently Frozen

2.2%
2.1%
2.1%
2.4%

Ongoing Traditional



2.0%
2.0%
1.9%
2.2%

Cash Balance

2.1%
2.1%
2.0%
2.4%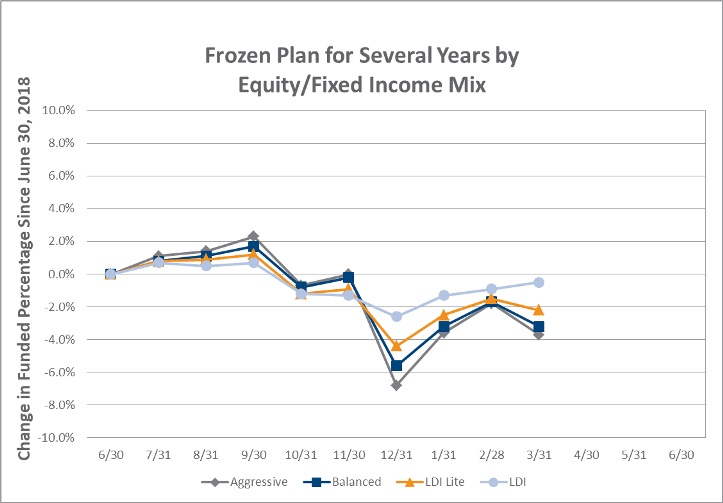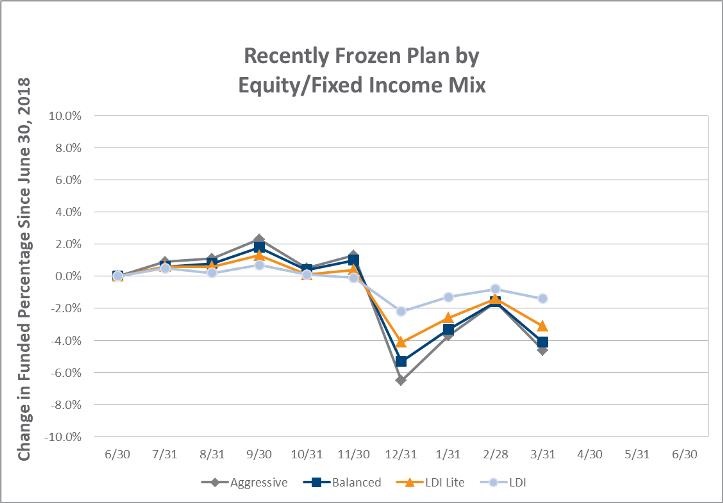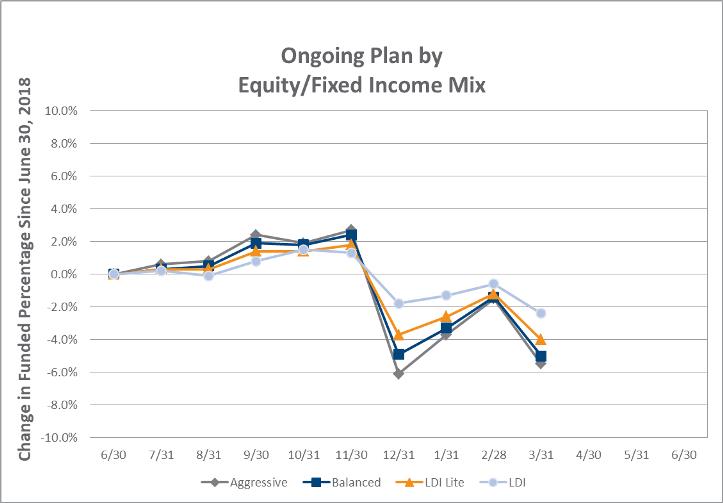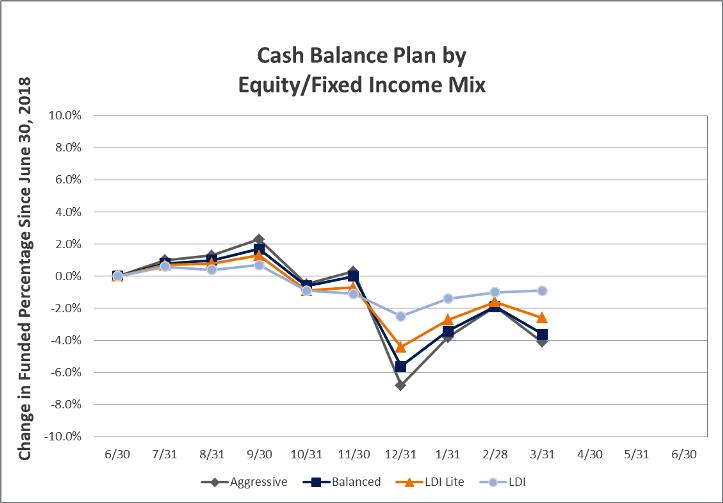 Rates, the Treassury Yield Curve and Pension Liabilities