Pension Indicator Updated for April 30, 2019
Breaking: Predicting the future is tough
By: Matthew Klein, Principal, Findley
While doing some pleasure reading (ha!), I took a closer look at historical interest rates. I compiled a slightly cherry-picked sample of interest rates for December 30-year U.S. Treasury averages for each year listed
2008: 2.87%
2011: 2.98%
2012: 2.88%
2014: 2.83%
2015: 2.97%
2017: 2.77%
Currently the 30-year U.S. Treasury's yield is still lingering around 2.9% at the time of publication.
For all the talk about how volatile things are, that's some remarkable consistency. No doubt, while there have been up and downs in between these points, for more than ten years now, the long-term 30-year U.S. Treasury yield has been floating in a fairly narrow range.
During that same time period, my oldest has gone from being scared to get on the bus for Kindergarten to driving himself to school. Now reflect on all the different economic theories that have passed by your eyes and ears during that time. The economy is crashing, the economy is booming, the next recession has to be coming: How many predictions have been correct? Chances are most readers have a lower batting average than your average baseball player.
Predictive science has progressed tremendously in the last ten years with data analytics permeating into every facet of business. Yet for all that work, the future, even just the short-term future, remains an extremely elusive enigma. There is always an unplanned event, whether it be political unrest in some part of the world, a scandal at a major company, or a hurricane that causes billions in damages.
Since the Society of Actuaries released the RP-2014 mortality tables, we've actually seen small decreases in life expectancy with subsequent intervals of the Mortality Improvement projection scales. This could not have been built into very many models five years ago. We're seeing pension plan sponsors weighing annuity purchases and in reality the cost of annuity purchases hasn't changed much over this time period.
We are still very much in the gestational phase of data analytics and its application to pensions. Will we have it solved by the time I write this article in another 10 years? Maybe…but I wouldn't bet on it.
As always, thanks for reading, and drop us a comment on how we're doing.
This email address is being protected from spambots. You need JavaScript enabled to view it. or Clearstead to discuss this information further.
For more information on the development of the Pension Indicator, please see our Disclosure document.
Information provided in this article is general in nature, is provided for informational purposes only, and should not be construed as investment advice. Performance data represents past performance. Past performance is not indicative of future results.
i FTSE Pension Liability Index, as of 4/30/19
Year to Date Investment Mix

Plan Type

Growth

Balanced

LDI Lite

LDI

Frozen (for several years)

5.8%
4.6%
3.9%
2.9%

Recently Frozen

4.8%
3.6%
2.9%
1.9%

Ongoing Traditional

3.8%
2.6%
1.9%
0.9%

Cash Balance

5.5%
4.2%
3.6%
2.5%

Month-over-Month Investment Mix

Plan Type

Growth

Balanced

LDI Lite

LDI

Frozen (for several years)

2.6%
2.2%
1.7%
1.0%

Recently Frozen

2.9%
2.5%
2.1%
1.4%

Ongoing Traditional

3.3%
2.9%
2.4%
1.7%

Cash Balance

2.7%
2.3%
1.8%
1.1%

12-Month Change Investment Mix

Plan Type

Growth

Balanced

LDI Lite

LDI

Frozen (for several years)

3.5%

3.5%
3.6%
4.1%

Recently Frozen

3.3%
3.3%
3.4%
3.9%

Ongoing Traditional



3.0%
3.0%
3.1%
3.6%

Cash Balance

3.2%
3.2%
3.3%
3.8%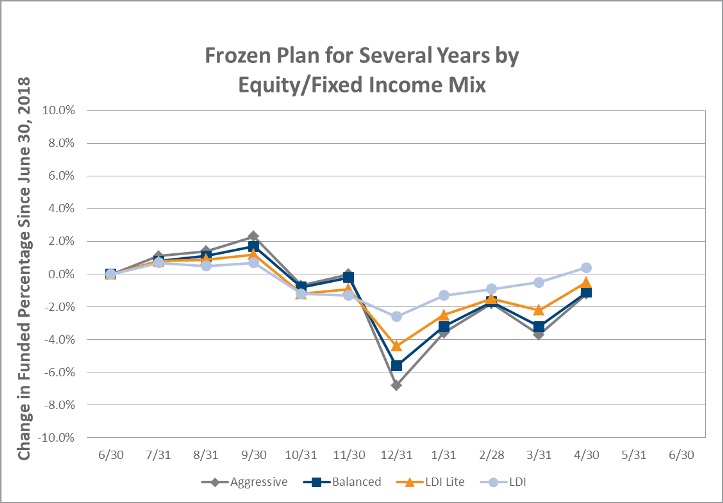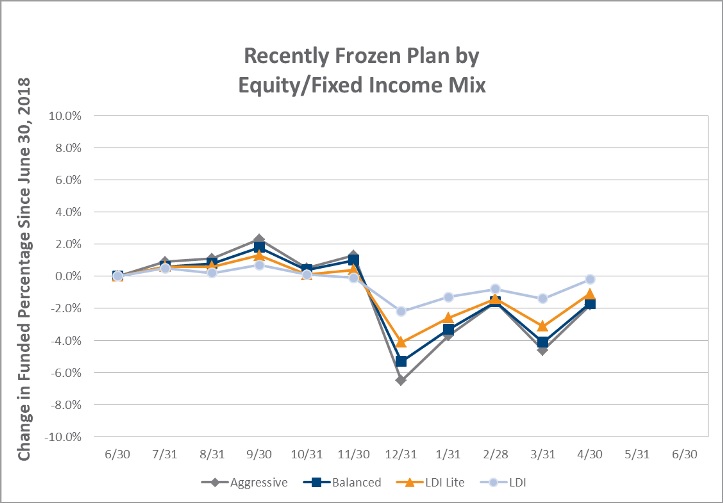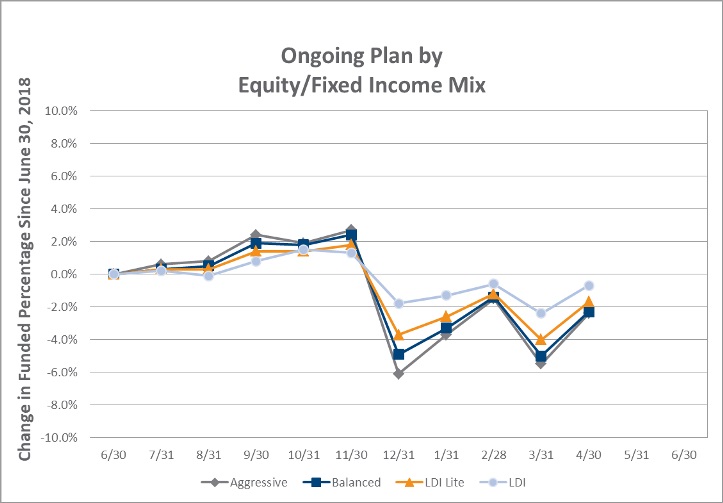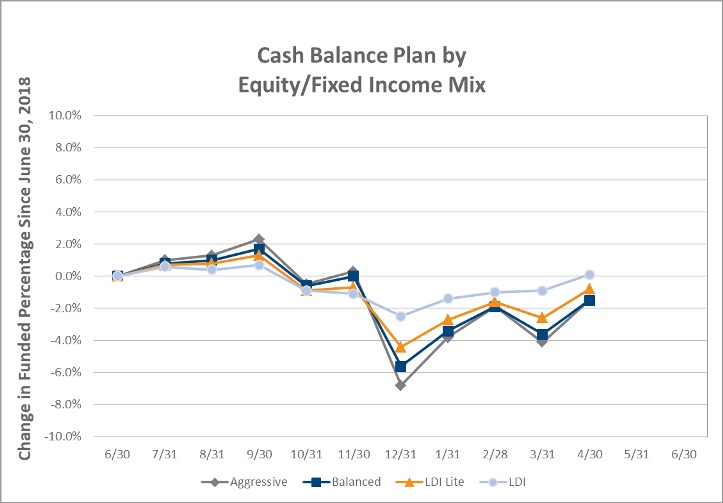 Rates, the Treassury Yield Curve and Pension Liabilities