Pension Indicator Updated for May 31, 2019
With Two Tweets, Funded Status Takes a Dip
By: Grant Guyuron, Senior Managing Director, Clearstead
Risk assets had a great start to the year, and funded status for many plan sponsors had risen in 2019 despite lower interest rates. Then, on May 5th, the President threatened increased tariffs on China because talks were not progressing as he had hoped. Later in the month, he threatened Mexico with 5% tariffs, again via a surprise tweet. Equity and credit markets did not react favorably as it created renewed uncertainty about global trade, economic growth, and corporate earnings. Meanwhile, interest rates plummeted – the 10 Year U.S. Treasury Yield declined 33 bps in the month to 2.17%1.
The impact on pension plan sponsors was not favorable in May. With the S&P 500 Index (U.S. large cap stocks) down 6.4% and the MSCI ACWI ex USA Index (international stocks) down 5.4%, many plan sponsors, particularly those with higher equity exposures, saw asset values decline. Meanwhile, the FTSE Pension Liability Index – Intermediate (a proxy for pension liabilities) returned 3.8% in the month as lower rates translate into price appreciation in the bond market and for traditional pension liabilities. For more aggressive investors, that might have translated into a reduction of funded status of 6-7%.
The uncertainty surrounding global trade highlights the need for plan sponsors to understand and control the risks they are taking with respect to asset / liability management. Reduced funding status has an immediate impact on the corporate balance sheet and can flow through to impact required minimum contributions and PBGC premiums depending on the plan. So the President's twitter activity was very costly for pension plan sponsors in the month. Of course, it is certainly possible that trade negotiations advance and another tweet helps markets reverse course.
As always, thanks for reading, and drop us a comment on how we're doing.
This email address is being protected from spambots. You need JavaScript enabled to view it. or Clearstead to discuss this information further.
For more information on the development of the Pension Indicator, please see our Disclosure document.
Information provided in this article is general in nature, is provided for informational purposes only, and should not be construed as investment advice. Performance data represents past performance. Past performance is not indicative of future results.
1Source: Bloomberg
i FTSE Pension Liability Index, as of 5/31/19
Year to Date Investment Mix

Plan Type

Growth

Balanced

LDI Lite

LDI

Frozen (for several years)

-0.1%
0.0%
0.8%
1.9%

Recently Frozen

-1.9%
-1.8%
-1.0%
0.1%

Ongoing Traditional

-3.8%
-3.7%
-2.9%
-1.9%

Cash Balance

-0.7%
-0.6%
0.2%
1.3%

Month-over-Month Investment Mix

Plan Type

Growth

Balanced

LDI Lite

LDI

Frozen (for several years)

-5.6%
-4.4%
-3.0%
-1.0%

Recently Frozen

-6.4%
-5.3%
-3.8%
-1.8%

Ongoing Traditional

-7.3%
-6.1%
-4.7%
-2.8%

Cash Balance

-5.8%
-4.6%
-3.2%
-1.2%

12-Month Change Investment Mix

Plan Type

Growth

Balanced

LDI Lite

LDI

Frozen (for several years)

-2.2%

-1.1%
0.6%
3.3%

Recently Frozen

-3.2%
-2.0%
-0.3%
2.3%

Ongoing Traditional



-4.1%
-3.0%
-1.3%
1.3%

Cash Balance

-2.7%
-1.5%
0.2%
2.9%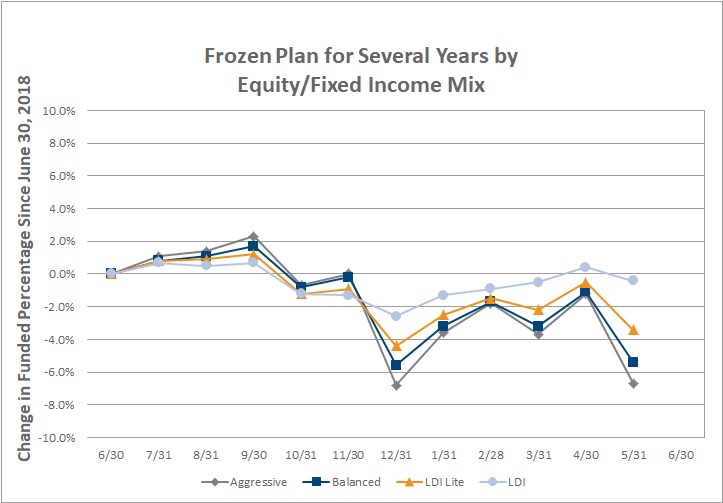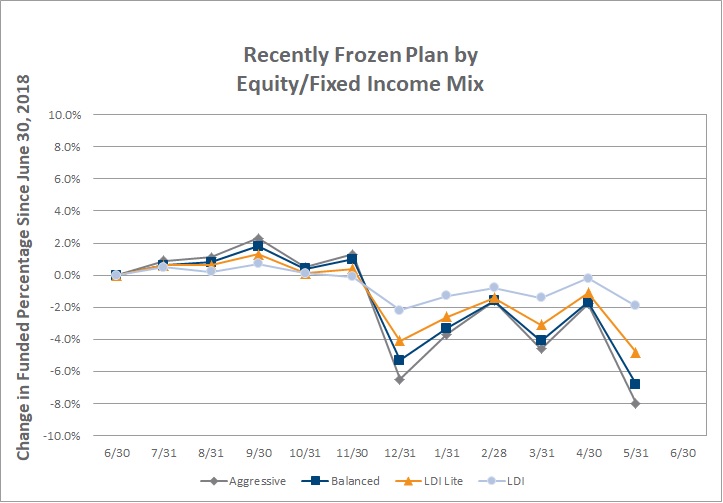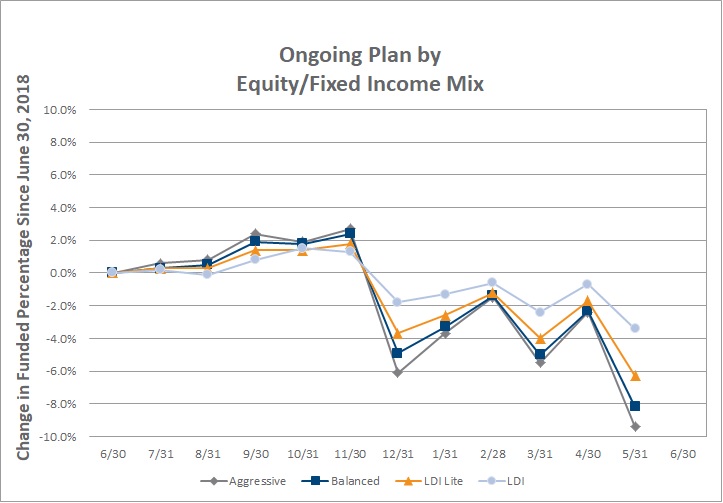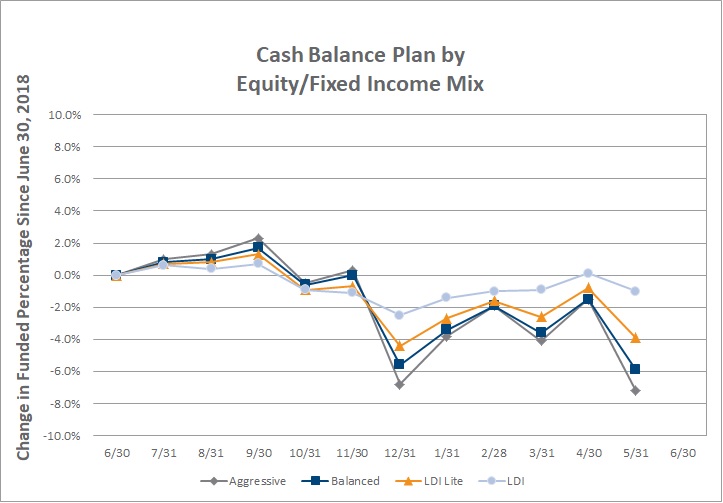 Rates, the Treassury Yield Curve and Pension Liabilities