Pension Indicator Updated for June 30, 2019
Defeated Pension Indicator Looks Forward to Next Season
By: Matthew Klein, Principal, Findley
"Yesterday is not ours to recover, but tomorrow is ours to win or lose." – Lyndon B. Johnson
For plan sponsors that just finished their fiscal year-end, it's another year of results where the external forces (equity return and bond yields) did you no favors. US Corporate bond yields fell over 60 bps1 during the past 12-months, proving most economists wrong. For a typical plan, this could increase liabilities by 6% to 9%. With that much headwind, obviously it takes double-digit returns to make any progress and it's hard to find an asset class performing at that level.
Whenever bond yields go down, this typically works in favor of those that have employed more hedging strategies. We see that pattern continue in the past year. The lower bond yields translate into higher prices which helps sustain the pension plan at nearly the same funded level.
"Interest rates have to go up" seems to be the financial equivalent to "There's always next year" in sports. It's time to start another fiscal year, starting where you are, and hope to make the right moves to be in a better place in twelve months than you are today. May you come out on top!
As always, thanks for reading, and drop us a comment on how we're doing.
This email address is being protected from spambots. You need JavaScript enabled to view it. or Clearstead to discuss this information further.
For more information on the development of the Pension Indicator, please see our Disclosure document.
Information provided in this article is general in nature, is provided for informational purposes only, and should not be construed as investment advice. Performance data represents past performance. Past performance is not indicative of future results.
1Source: FTSE Pension Liability Index
i FTSE Pension Liability Index, as of 6/30/19
Year to Date Investment Mix

Plan Type

Growth

Balanced

LDI Lite

LDI

Frozen (for several years)

1.8%
1.5%
2.4%
3.3%

Recently Frozen

-0.7%
-1.0%
-0.1%
0.8%

Ongoing Traditional

-3.3%
-3.5%
-2.7%
-1.9%

Cash Balance

1.0%
0.8%
1.6%
2.5%

Month-over-Month Investment Mix

Plan Type

Growth

Balanced

LDI Lite

LDI

Frozen (for several years)

1.9%
1.5%
1.6%
1.3%

Recently Frozen

1.2%
0.9%
0.9%
0.7%

Ongoing Traditional

0.5%
0.2%
0.2%
0.0%

Cash Balance

1.7%
1.4%
1.4%
1.2%

12-Month Change Investment Mix

Plan Type

Growth

Balanced

LDI Lite

LDI

Frozen (for several years)

-4.8%

-3.9%
-1.8%
1.0%

Recently Frozen

-6.8%
-5.9%
-3.9%
-1.1%

Ongoing Traditional



-8.9%
-7.9%
-6.0%
-3.3%

Cash Balance

-5.5%
-4.5%
-2.5%
0.3%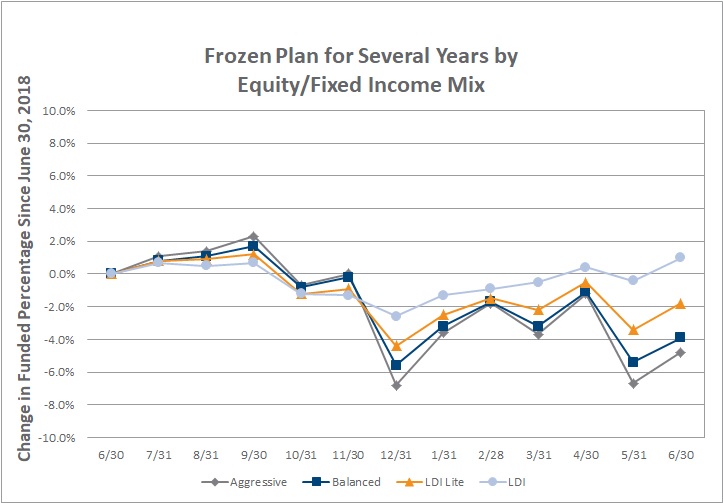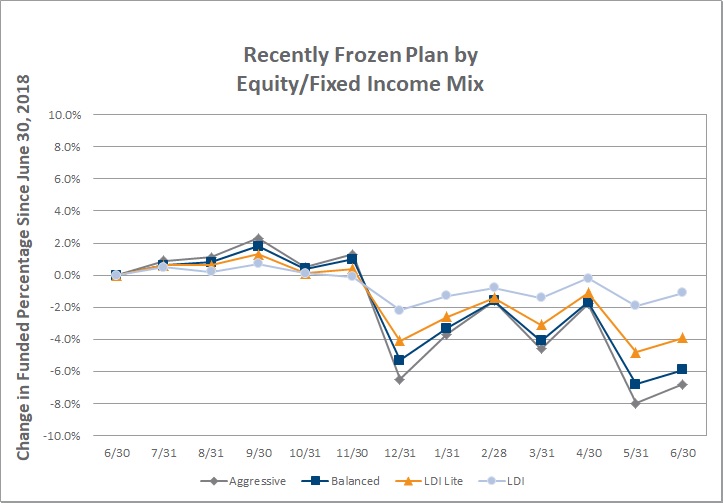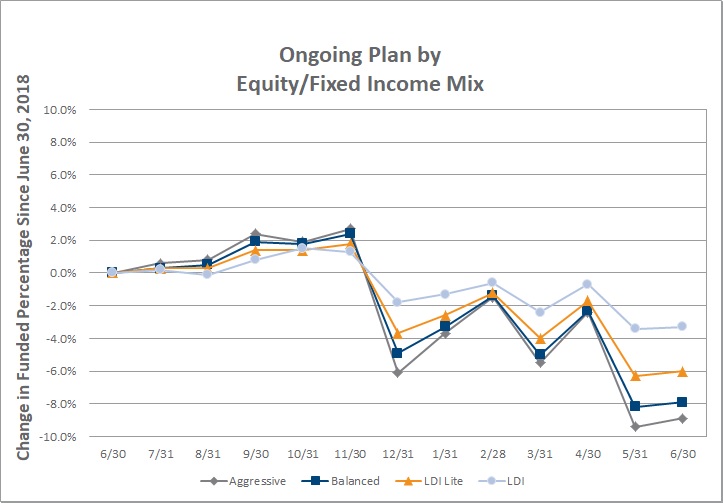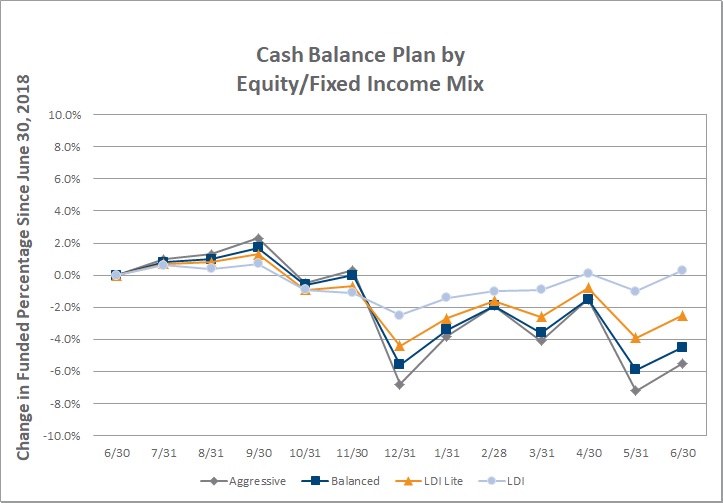 Rates, the Treassury Yield Curve and Pension Liabilities